It was just over a year ago that the news of Habits transitioning their gastropub to include a nanobrewery appeared on The Bar Towel forum.  By early 2015, the nanobrewery was up and running and Habits was selling their new world saison on tap (a saison dry-hopped with Amarillo).  About seven months after opening another press release was sent out informing that Habits was re-branding to Folly Brewpub, expanding the brewery, and had future plans for a bottle shop.  The transition was fast and the story of how it all came together is an interesting one.  A week before the official launch party I wandered over to Folly (almost missing the building because there was no official signage) to talk to the two Folly brewers about how the whole process unfolded.
A lot can change in a short time – although I'm sure if you ask Christina Coady and Chris Conway they would probably say that 2011 feels like a long time ago now.  It was that year that both of them made the move to Toronto for academic pursuits: Christina for a post-graduate program in marketing while Chris was entering a PhD program in history of technology at the University of Toronto.  Although both are from Newfoundland their joint move to Toronto was not a coordinated plan.  That is, the Folly Brewpub story is not a narrative of two friends from the east coast moving to the big city to make good on their brewing dreams.  As you chat with the two brewers, their glances direct towards the back of the restaurant at the brewhouse and you can sense that they are still a little bit in awe of just how fast all of this has happened.
Habits Gastropub sits just west of Ossington on College in Little Portugal.  The gastropub, known for their higher-end comfort food and diverse wine and whisky selection, occupies a long narrow space which at one time included a concert stage in the back. Open since July 2011, the owners of Habits, Michelle and Luis, focused on local food, fresh ingredients, and preparing everything in-house.  Regarding beer, Habits often had an interesting tap list which focused on local but the owners eventually started to wonder whether they could also include beer in the restaurant's in-house philosophy.  Through a personal connection to the beer industry in Ontario (Doug Allen – Doug played a key role early in the process), they started to sample local homebrew and began thinking about the feasibility of incorporating a brewery into the restaurant.  It was during this process that Luis sampled the beer being brewed by Christina and Chris and the potential model started to take shape; a few years later Habits would join the rather large collection of breweries popping up on the west side of Toronto.
Chris and Christina's path to beer as a vocation, a path that was about to collide with Habits, started very far away from the west side of Toronto.   For Christina, who has wine sommelier training, a trip to Belgium during her undergrad acted as the progenitor for her involvement with beer as a hobby and eventual job.  The yeast-forward beers of that region caught her attention in a way that, at that time, beer from back home hadn't been able to.  Back in Newfoundland, Chris was sampling his way through every beer the liquor store had to offer.  In 2007, Chris was passing through Ottawa while helping someone move to Montreal – he stopped in Ottawa to hang out with Christina and other friends from Newfoundland and Christina introduced him to Trappist beers and he started to dive into the world of yeast-driven flavours as well.  In 2010 both Christina and Chris found themselves back in Newfoundland and somewhat dissatisfied with the beer available to them.  In order to fill the void, Chris started homebrewing and shortly after Christina joined him.
"I started homebrewing to make some hoppy beers out of necessity since there wasn't a single IPA in Newfoundland, and Christina followed suit with homebrewing a few months later. We've been talking about brewing and beer ever since."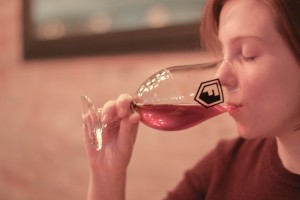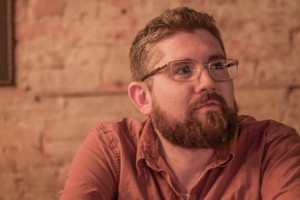 After moving to Toronto, their involvement with beer and homebrewing continued to grow and eventually beer started to imprint itself on more aspects of their day-to-day lives.  Chris was contributing to the Newfoundland Beer History website while also being active in the beer community in Toronto.  While working in marketing Christina often found her mind drifting towards beer – during one client presentation she accidently referred to APIs as IPAs for the duration of the presentation.   Both were active in the homebrewing community and Christina worked at Toronto Brewing prior to committing to Folly fulltime – "…as we were exposed to the massive and growing beer scene in Toronto we got caught up in the momentum."   It was homebrewing in a small Toronto apartment that provided an additional, almost pragmatic, fondness of saisons – saison yeast works well in warmer temperatures which is perfect for small Toronto apartments that don't have enough space for a fermentation chamber.  For a few years the nanobrewery idea remained in the background because of the careful planning and monetary investment required from Habits, and the fact that Christina and Chris were busy with their jobs and school.  Eventually the conversations became more serious and Christina and Chris were pulled even further into the Toronto beer scene.
"The idea of opening a brewery was always exciting for us, but as the discussions with Habits became more serious it became impossible to think about anything that had as much potential as this."
By February of 2015, Habits was officially a working brewpub with a 1.5hL brewing system situated in the kitchen and one 2.5hL tank in the back.  Christina and Chris were brewing once a week, and as demand grew, inevitably they started running out of beer.  Plans to expand the nanobrewery were drawn up, the stage was ripped out, and their brew system and 8 2.5hL tanks replaced the concert hall.  They now brew two batches a day and typically have about 4-6 of their own beers on tap, and recently they have started to send kegs to a few bars in the city (being selective about their accounts and focusing on bars that take their tap lines seriously).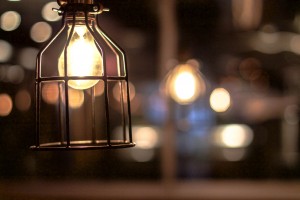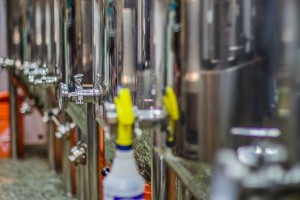 Luis and Michelle have given the two brewers full control over the beer ­- "We were afforded creative control on the brewing side of things and allowed to explore our idea of a farmhouse brewery with impunity."  The idea of a farmhouse brewery was driven by a few different factors: their joint exposure to and admiration for Belgian-inspired beers, their comfort dealing with saison yeast, and, perhaps the most business-minded factor, these were styles not regularly available in Ontario.  Additionally, for an establishment that takes food seriously, Folly's beers tend to lend themselves well to a wide range of food pairings.  The decision to focus solely on yeast and fermentation driven flavour profiles was also aided by the opening of Escarpment Yeast Laboratories in Guelph Ontario (Escarpment provides fresh liquid yeast, microbiological quality control, strain banking, and custom yeast/bacteria blending).  A good working relationship with Escarpment and Folly has developed which has given Christina and Chris access to yeast strains that they otherwise wouldn't have had.  They are moving towards relying fully on Escarpment Labs cultures as they continue to explore mixed-fermentation and expand their barrel and blending program.  Currently, there are six Ontario wine barrels in the back of the restaurant and they are continually looking for ways to add more.  For a small brewpub a souring program can be quite the investment and although the barrels look pretty cool at the back of the restaurant, ultimately it speaks to Michelle and Luis's commitment to allowing Christina and Chris to take their ideas as far as they envision.  Chris and Christina take a collaborative approach to recipe design and day-to-day brewing responsibilities: they work well together and are aware of each other's strengths and how to utilize them – e.g. Christina's wine training has helped her develop her palate while Chris is comfortable working on the technical details (before going back to school Chris was an engineer and his approach to problem solving can be witnessed in how he thinks about solutions for their limited space).
"Brewing and all the actual division of labour on brewday is totally interchangeable and tends to alternate from day to day. One day I'm packaging while Christina is mashing and lautering, the next day I might be more involved with the brewing and she'll be washing kegs. I seem to have been charged with being the main wrangler of our uncooperative mill which seems to have taken a disliking to Christina. It's very much the same as our working relationship when it comes to the Taps homebrewing articles and things like this: one of us lays down a fairly fully formed idea/draft and the other edits and improves…"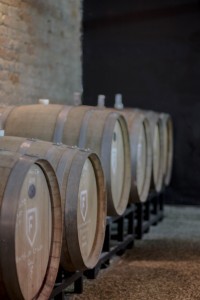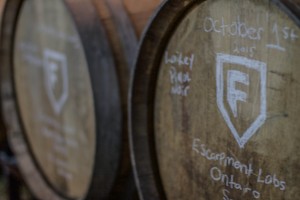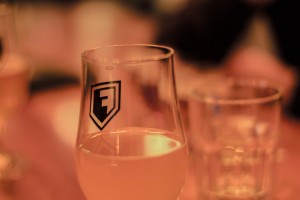 The official Folly launch party was on November 5th and, based on the positive reviews of their beer, it's easy to see that Michelle and Luis's trust in their brewers is paying off.  They have 4 core beers: 'Praxis' (a New-World Saison), 'Impostor Syndrome' (Farmhouse IPA), 'Flemish Cap' (Old-World Saison), and, my favourite, 'Inkhorn' (Farmhouse Bruin), with other collaborations showing up on tap as well.  When chatting with the two brewers it is easy to see why they have had such a good start and also why so many people seem genuinely happy for their success.  They are clever, curious, and technically sound while also having a good mix of humility, self-deprecation, and an honest openness to criticism.  In a way, the two brewers resemble the beers that they have chosen to brew – complex but refreshing.
Words and pictures by Dennis Talon (follow Dennis on Twitter and Instagram)