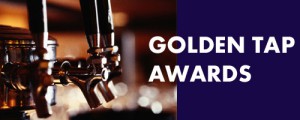 We're approaching the ending of the voting for the 2012 Golden Tap Awards!  If you haven't gotten in your votes now is the time to do so – voting will close on Monday, September 17th.  You can cast your votes in as many categories as you'd like at the Golden Tap Awards voting page.
The awards will be announced at a gala event taking place on Saturday, September 22nd at beerbistro.  The Golden Tap Awards will be the closing-night party for Toronto Beer Week, and will feature an all-Ontario craft beer festival including Cheshire Valley, 3 Brewers, King, Bellwoods, Amsterdam, Spearhead , Great Lakes, Double Trouble, House Ales, Indie Alehouse, Junction, Kensington and more.  The festival starts at 4pm and the awards show is at 8pm.  Free admission, and you can find out more at the Facebook event page.
So, vote now and we hope to see you at the awards!