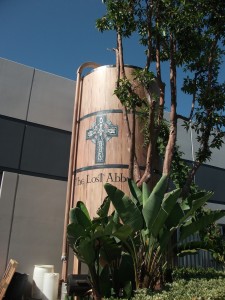 Last year we were happy to preview the Craft Brewers Conference in San Francisco with a look at some of the best beer spots and our picks for seminars. Well, that time is back upon us and we're eagerly looking towards this year's version, which is taking place once again in California from May 2 to 5, 2012.
This year the CBC, which is organized by the U.S. Brewers Association, is taking place in San Diego. For those who only know the city through Anchorman, you may not realize that San Diego is one of the top beer destinations in the U.S., if not anywhere. It has a staggering amount of craft beer to enjoy, and coupled with its ocean side setting and remarkable weather make the San Diego a real treat. In Part One of our CBC preview, we'll look at some of the beer spots worth checking out if you're fortunate enough to be attending this year.
Let me first explain what is the probably most significant impediment to drinking all that is San Diego: the city and surrounding metropolitan area is very large. Unlike last year in compact San Francisico, San Diego is a very spread out city, with the city proper and suburbs covering a very large geographical area. And although San Diego does have a transit network, it is not easy to get to all the places that are well worth going to. So, some form of transportation is a must to fully enjoy San Diego's beer scene. It could be a designated driver, taxi, or what is quite common in the region – craft beer tours. You'll want to make sure you know the area and cluster your spots so you're not going all over the place.  However, it's likely that many shuttle buses will be set up to bring CBC attendees to delicious beer.  For the purposes of our preview we'll show distances from the CBC host location, the Town and Country Resort in Mission Valley.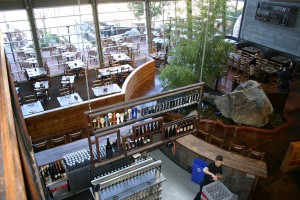 Let's start with the famous breweries in the region. The reigning champ is Stone Brewing, located about 30 miles northeast of the CBC location in the suburb of Escondido. Stone is a stunning beer Mecca, and it is beer destination with few rivals. There's really nothing to compare it to – it is a massive facility with operating brewery, retail store and what they appropriately call the "World Bistro and Gardens" which is an incredible outdoor stone and rock decorated patio and restaurant.  They've got tons of Stone beer, a full menu of food and a enjoyable atmosphere.  You could easily spend all day at Stone and you'll have a great time doing it.  It is clear that Stone is not resting on their laurels and has all kind of expansion plans. Here's an article from last year that outlines some of the things they are up to.
For those going to San Diego before the official start date of May 2nd, Stone is hosting a kickoff party on May 1st, named "Saison du BUFFet". The event has a remarkable beer list and promises to be a hell of a kickoff to the CBC. Tickets should be purchased in advance and more details can be found here.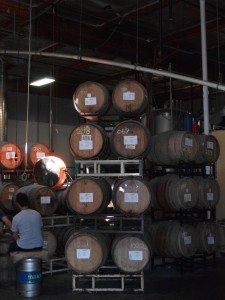 Just west of Escondido in San Marcos is another renowned brewery, Port Brewing and Lost Abbey (in what is the original Stone brewery). They are actually two brewery brands in one, Port having being spawned from Pizza Port (more on that later) and Lost Abbey being their line of specialty and barrel aged beers.  But both beer lineups are made at their brewery in San Marcos. The brewery is more of an industrial space than Stone, lacking a sit down area, but has a full tasting room intermixed within the brewery space. A great place to try out their fantastic beers, and the last time I was there a taco truck was parked out front in case a bite to eat was needed.
Another renowned brewery in the region is located about 13 miles north of the CBC resort, just above the Marine Corps Air Station Miramar (famously known for its appearance in Top Gun) – Alesmith.  Imagine how Maverick might have performed if he had this place nearby. Alesmith is definitely one of the most talked about breweries in the region, with famous beers coupled with limited availability.  Alesmith is definitely a raw place, once again being in an industrial space but having a tasting area with kegs for seats. Alesmith also offers kegs to go, which is pretty handy to take home some of their delicious brew.
The San Diego area is covered with more breweries, including: Iron Fist, Alpine, Coronado, Green Flash, Ballast Point and many more. It is amazing how many craft breweries exist in the area. If you can visit the breweries then great, but be sure to familarize yourself with who they are if you get the chance to them to try out during the festivities as they will likely have their beers readily available at CBC events.
Just this month San Diego Magazine published a comprehensive guide to the breweries of the area, with much more detail than we can provide. Give it a read and print it out for reference.
San Diego is also home to a wealth of great brewpubs and craft beer bars. One of the most famous is Pizza Port, a family of brewpubs with locations in Carlsbad, Ocean Beach, San Clemente and Solana Beach. The closest one to the CBC resort is Ocean Beach, which is about 5 miles straight out to the Pacific.  Pizza Port, the father of Port Brewing, maintains their own in-house brewing facilities and unique beers at each brewpub. At the Ocean Beach location it is a raucous spot, with communal tables, pizza orders being called out over a loud speaker and beers flowing plentifully. Its very "California", with surfer dudes and dude-ettes abound and is a great spot to hit for some beachy beer atmosphere. Definitely not something you find anywhere in Toronto. And while you're on the beach, also check out the Pacific Beach AleHouse off Pacific Beach (north of Ocean Beach), a friendly pub with some of their own beers and easy access to the beach, and the Tap Room, a fun spot with lots of local beers. Be sure that you get a bit of sun and sand during the CBC this year!
For a different beer experience, try out Neighbourhood, a modern, upscale beer bar downtown about 4.5 miles south of the CBC resort. It's a spot where you'll find draught selections from the major breweries in the area, along with others from around California and the U.S.  And they have a 'speakeasy' room, the Noble Experiment, through a secret door from within.
There are numerous other renowned beer bars in the San Diego area, including a location of the legendary San Francisco bar Toronado.   Toronado, located about 4.5 miles southeast in North Park, has a crazy tap selection and have events lined up throughout the week.  Draft Magazine named three bars in San Diego to their top 100 beer bars in the U.S.: Hamilton's Tavern (8 miles southeast in South Park), Blind Lady Ale House (4 miles east in Normal Heights) and O'Brien's American Pub (about 6 miles north).  There are lots of great beer bars in San Diego, so follow the buzz during the week and explore!
Another cool place that just opened up this year is the Tasting Room at White Labs.  White Labs, a company most well-known for its brewers yeast, now has a tasting room to try different beers based upon their yeast cultures.  Located about 11 miles north near Miramar, this sounds like a really unique beer experience.
Finally, the CBC always has lots of events at local breweries and bars as they get in on the fun to celebrate the festivities.  We will track events as we find out about them in our discussion forum thread here.  Already there are great events lined up at Toronado, Hamilton's, Karl Strauss, Stone and more.
Next up in our two-part preview: our picks for the can't miss conference seminars.  Stay tuned!