In Part 1 of our Craft Brewers Conference (CBC) Preview, we covered some of the sure-to-be interesting seminars and discussions during the conference itself.  Now we'll cover another crucial element to getting the most out of the conference – the great beer bars of host city San Francisco.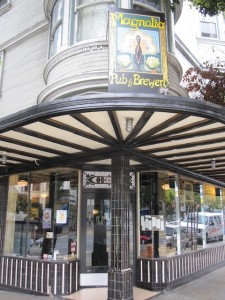 San Francisco is one of the great beer cities in the U.S., with a wealth of beer bars, brewpubs and breweries offering a diverse range of styles from around the local area, the country and beyond.  And when the surrounding Bay Area and Northern California is included there's even more to taste and explore.  I can honestly say that San Francisco is one of my favourite cities I've ever visited (I'm not alone with this opinion) as it possesses a vibrant urban culture, interesting and diverse neighbourhoods and of course, incredible beer and cuisine.
I have been fortunate enough to visit San Francisco twice and will outline some of my favourite spots, which will definitely be hopping when the CBC rolls into town.  The CBC is as much a social event for industry as it is a business conference, and when the seminars wrap up in the afternoon the attendees generally hit the local pubs to imbibe in the best the region has to offer, and this year will be no different.  And coming off the heels of SF Beer Week, many of the great spots in San Francisco will be hosting special events throughout the weekend.  For anyone attending CBC, you won't be disappointed.
First, a tip to anyone attending the conference – get out of downtown.  In order to fully experience what San Francisco has to offer you'll have to venture away from the host hotel and into some of the city's neighbourhoods – but it will be worth it.  San Francisco has an excellent transit system – Muni is the city's municipal rail system and BART is the rapid transit system.  It's easy to get around and will be a great way to explore some of the beer spots around town.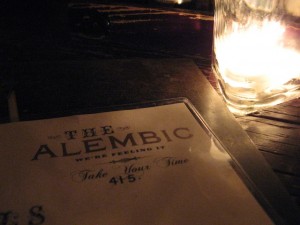 Let's get on to some of the must-see spots in town.  I'll recount my favourites from personal experience, however unfortunately I haven't been able to get to all the most-talked about places.  But I'll list the good spots that I'll also be checking out for the first time.  And at the end of the article you can find a summary of the events happening around the city – and there are some good ones.
Magnolia Gastropub and Brewery, 1398 Haight Street.  If I had to choose, my top pick in San Francisco and one of my favourite bars anywhere.  Magnolia has it all – located in a great neighbourhood (Haight-Ashbury), they have an on-site brewery producing a range of diverse styles on both draught and cask, excellent food, friendly staff, a lively atmosphere and a funky artistic sense and style.  An essential visit while in San Francisco to experience, in my mind, a "complete" pub.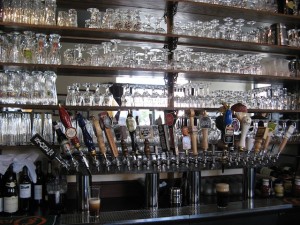 Monk's Kettle, 3141 16th Street. A beer mecca in the Mission District, The Monk's Kettle is a gem of a bar.  This gastropub has one of the best beer selections you'll find anywhere, with rarities from across the U.S. and abroad.  During CBC week they're going to step up their game with Abbaye de St Bon Chien and Cantillon available on draught, along with a special vintage beer list.
The Alembic, 1725 Haight Street. A partner bar to Magnolia (owned by the same folks), The Alembic is a sophisticated beer bar with an interesting and diverse draught selection.  A fine one-two punch it is to hit both Magnolia and The Alembic, a short walk from one to the other down Haight.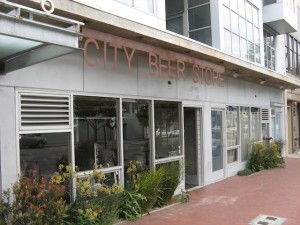 City Beer Store, 1168 Folsom Street.  A rather unique (and tiny) spot, City Beer Store is a combination retail store and tasting room.  Located in a modern building not far from downtown, City Beer offers a handful of unique draught beers and a huge range of bottles, which can be purchased to take-away or on-site consumption.  Something like this wouldn't exist in Toronto due to our regulations.
Toronado, 547 Haight Street.  This is a legendary beer bar, one that is almost always talked about in a San Francisco beer discussion.  And it doesn't disappoint, with dozens of craft beers covering all kind of rare and unique styles.  It's a lively bar, with a well-known reputation for "unique" service, but anyone who's used to drinking in Toronto would have no problem adapting.
Social Kitchen & Brewery, 1326 9th Avenue.  This recent addition to the San Francisco beer scene, Social Kitchen is the latest tenant in what has been known as a "cursed" piece of real estate.  But all signs point to Social Kitchen bucking that trend – it's a large, inviting space with a nice lineup of house-brewed beers.  Worth a venture to the Inner Sunset neighbourhood to check it out.
21st Amendment, 563 2nd Street. 21st Amendment, a reference to the repeal of Prohibition, is a lively brewery and pub located near the S.F. Giants ballpark and walking distance of downtown.  On game days 21st Amendment is a zoo, awash of orange thanks to the Giants supporters.  But it's worth visiting anytime with a great selection of house brews.
These spots represent only a fraction of the great beer spots that San Francisco has to offer.  Other places worth seeking out include Thirsty Bear Brewing (661 Howard Street – 2 special seasonal beers coming out next week), the Belgian bar and restaurant La Trappe Cafe (800 Greenwich Street), Oakland's Belgian bar The Trappist (460 8th Street), Amsterdam Cafe (937 Geary Street), Public House near AT&T Park (24 Willie Mays Plaza), Beach Chalet in Golden Gate Park (1000 Great Highway), Church Key in North Beach (1402 Grant Avenue), and some other spots in the Mission: Rosamunde Sausage Grill (2832 Mission Street), The Sycamore (2140 Mission Street), Zeitgeist (199 Valencia Street) and Pi Bar (1432 Valencia Street).
And on to the events.  Host city bars tend to have a number of unofficial events tied to the CBC, since there are so many brewers (and good beer) in for the conference.  This year is no different, with a number of bars getting in on the action with a series of special beer tappings and brewer meet-and-greets.  There will likely be more that materialize as the event gets closer next week, but you can find some that are already confirmed after the break.  Have a great time at the CBC and see you there!
CBC Events – Here are a few of the events happening around town during the CBC weekend:
Thursday, March 24th, 5-8pm, 21st Amendment: 21st Amendment/Ninkasi night with beers from both breweries available and the tapping of a special 21A-Ninkasi collaboration brew.
Thursday, March 24th, 6-10pm, Public House: Russian River and Sierra Nevada night, with 6 taps from each brewery available, including the debut of their CBC collaboration, Symposium Sour Brown Ale.  Vinne Cilurzo and Ken Grossman will be on hand.
Thursday, March 24th, Monk's Kettle: Special feature of a couple of East Coast breweries that are not usually found in these parts: the Cambridge Brewing Company, and Pretty Things Ales and the brewers will be on hand.
Friday, March 25th, 4-9pm, Speakeasy Ales & Lagers Brewery: Firkin Friday featuring a selection of special beers by Speakeasy.
Friday, March 25th, 5-8pm, 21st Amendment: "Black Friday", a celebration of black beers including their Double Back in Black.
Friday March 25th, 6pm, The Trappist: Shelton Brothers presents "A Brewers Gathering". In attendance will be Jean Van Roy from Cantillon, Yvan de Baets from De La Senne, Jens from Haand Bryggeriet, Kjetil from Nogne-O, and Stephane, JP, and Luc from Dieu du Ciel! with several of each of their beers available on draught.
Friday, March 25th, 6pm, City Beer Store: Special Deschutes tasting featuring The Abyss, Jubel 2010, Mirror Mirror, Hop Henge Experimental IPA and Red Chair NWPA and brewer Larry Sidor on hand.
Friday, March 25th, 7pm, Rosamunde Sausage Grill: The first public tapping of Marrón Acidifié, a collaboration brew between The Bruery and Cigar City.  This year-old barrel-aged "imperial oud bruin" promises to be something special.  The brewers will be in attendance.
If you know of any other events, please let us know and we will add it to the list.
And if you're heading to San Francisco for the first time, here are some helpful resources:
http://www.sfgate.com/neighborhoods/ – A handy guide to the neighbourhoods of San Francisco.
http://www.beerbybart.com – A helpful site with personal bar reviews and transit directions.
http://www.sfbeerweek.org/ – The official site of San Francisco Beer Week, helpful to find some of the top spots in town.
http://www.onlyinsanfrancisco.com/ – The official tourism guide to the city.
If you are coming to the CBC from Ontario, please let us know in the discussion forum.