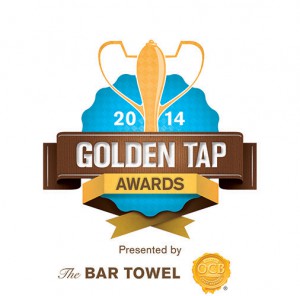 The 2014 Golden Tap Awards will be handed out tonight at beerbistro as a part of Toronto Beer Week.  This year is the biggest Golden Tap Awards ever, with more categories added reflecting the expanded craft beer culture in Ontario.  Tonight's event will feature an all-Ontario beer and cider festival, with over 30 breweries and cideries available, including:
Draught
Great Lakes Thrust! An IPA
Junction Brakeman's Session Ale
Spearhead Sam Roberts Band Ale
Sawdust City Lone Pine IPA
Black Oak Oaktoberfest
Nickel Brook Le Paysan Saison
Amsterdam TBW Farmhouse Ale
West Avenue Spy: Northern Spy Apple Farmhouse Cider
Left Field Sunlight Park Saison
Boshkung Tart-an Spruce Ale
Beer Academy Rauchbier
Bellwoods Bounty Hunter Strong Porter with Vanilla + Coconut
Beau's Haters Gonna H8 Kolsch Bock
Spirit Tree Double Pagan Crabapple
Kensington FishEYE-PA
C'est What Burnt Offering Harvest Ale
Side Launch Wheat
Cameron's Roggenbier
Hop City Hopbot
Publican House Highnoon
Cask
House Ales Punters Gold
West Avenue Cider Wild Blueberry Scrumpy
Bottle/Can
Spearhead Hawaiian Style Pale Ale
Spearhead Moroccan Brown
Steam Whistle Pilsner
Arch Dinner Jacket O'Red IPA
Creemore Springs Traditional Pilsner
Collective Arts Saint of Circumstance
Beau's Dial "Z" for Zwickel
Side Launch Dark Lager
King Dark Lager
King Pilsner
Oast House Biere de Garde
Brick Works Ciderhouse Batch: 1904
Innocente Bystander American Pale
Mill Street Nightmare on Mill Street
Mill Street 100th Meridian
Mill Street Oktoberfest
The Golden Tap Awards are free to attend and you can purchase beer at the event.  Doors open at 5pm, and the awards show is at 8pm.  Beerbistro is located at 18 King Street East.  We hope to see you there!