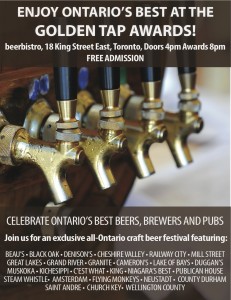 The Golden Tap Awards weekend is fast approaching and it's shaping up to be a great celebration of Ontario beer.
Friday night brings the first-ever Ontario craft beer dinner to beerbistro.  The dinner, featuring seven of the top craft breweries in Ontario paired with delicious beerbistro cuisine, will be a great kickoff to the weekend.  Tickets to the event have sold out.
Saturday is the big day, with a combination Ontario craft beer festival and awards announcement gala, also at beerbistro.  With over 25 Ontario craft breweries attending the festival, it will be one of the best opportunities to try the diversity and quality of craft beer in the province. Breweries participating in the festival include:
Black Oak
Beau's
Denison's
Cheshire Valley
Great Lakes
Grand River
Granite
Cameron's
Muskoka
Kichessippi
C'est What?
King
Steam Whistle
Amsterdam
Flying Monkeys
Railway City
Lake of Bays
Niagara's Best
County Durham
Neustadt
Saint Andre
Church Key
Wellington
Mill Street
Duggan's
Publican House
At the event you will be able to try sample-sized portions of all the beers available, plus try delicious beerbistro cuisine.  As you sample the beers you will be able to vote for the "Best of the Fest" which will win a special Golden Tap Award as well.
The Golden Tap Awards festival begins at 4pm on Saturday, August 21st.  The awards show begins at 8pm, where we will hand out all the awards that were voted upon and the Editor's Circle selections.  Admission is free, and you can purchase food and drink tickets at the event.