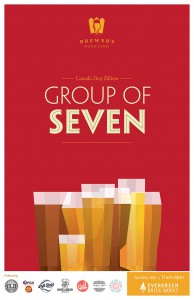 The Canada Day edition of the Brewer's Backyard is quickly approaching on Tuesday, July 1st at the Evergreen Brick Works from 11-4pm.  Entitled the Group of Seven, this one will feature the Brewer's Backyard's first-ever cidery participant, Spirit Tree, as well as breweries Great Lakes, Oast House, Left Field and Nickel Brook.  On the food front, returning partners Kanga Meat Pies and Sugar Pie Honey Bunch will be serving delicious eats.
The Brewer's Backyard is all-ages and free admission, and you will be able to purchase beer and food during the event.  The Group of Seven will open from 11-4pm at the Evergreen Brick Works in the Koerner Gardens and Holcim Gallery areas, going rain or shine (Holcim is covered).
We hope to see you out at the Brewer's Backyard on Tuesday – let's celebrate Canada Day the right way – with some delicious craft beer!