Join Cass & Troy on a walking beer tour through the streets of Toronto
Toronto, ON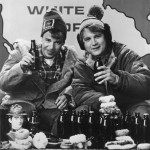 – Join Cass Enright and Troy Burtch on Wednesday June 23rd for their first annual Toronto Pub Crawl during Ontario's first ever craft beer week hosted by the Ontario Craft Brewers (OCB).
Enright, who founded Ontario's premier online beer resource, The Bar Towel and the Golden Tap Awards, and Burtch, creator/writer of the popular Great Canadian Pubs & Beer Blog, will lead you on a walking tour of five terrific beer establishments along Toronto's Annex and Kensington neighbourhoods.
Each stop will feature a Cheers! led by both men who will also address the crowd with a story or two about their experience working and dealing in the Ontario craft beer industry. There will also be numerous prizes handed out along the way including: subscriptions to TAPS Beer Magazine, beer books, bottle openers, t-shirts, OCB glassware, gift certificates and more.
The Pub Crawl will also act as the launch of voting for the 2010 Golden Tap Awards, one of the leading awards recognizing the best in beer in Ontario. Beer lovers from across the province will be able to vote for their favourite beers, breweries, bars and brewpubs until August.
List of Pubs that will be visited:
Victory Café – 6:30
581 Markham Street
Toronto, ON M6G2L7
Caplansky's Deli – 7:30
356 College Street
Toronto, ON M5T 1S6
Ronnie's Local 069 – 8:15
69 Nassau Street
Toronto, ON
The Embassy – 9:00
223 Augusta Avenue
Toronto, ON
Cloak and Dagger – 10:15
394 College Street
Toronto, ON
Admission is free and bracelets will be disseminated to everyone who joins the crawl, which will help distinguish you from the rest of the crowd.
Should you wish to participate in the crawl, please RSVP as soon as possible by sending an email to either Cass (cass@bartowel.com) or Troy (troy@tapsmedia.ca).