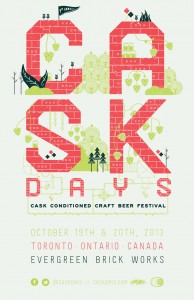 Canada's Largest Annual Cask-Conditioned Craft Beer Festival Returns for its 9th Year
Evergreen Brickworks October 19th – October 20th, 2013.
Cask Days has evolved into one of the most coveted craft beer events in North America. Along with featuring over 200 cask-conditioned ales from over 100 Canadian microbreweries, highlighted this year at Evergreen Brickworks will be 36 beers from the United Kingdom, the International Brewery Feature… the roots of "real ale"
As a major contributor to the Ontario craft beer community, the family behind Toronto mainstay barVolo, have taken Cask Days and elevated the beer drinking experience, spearheading one of the largest festivals of its kind. Cask Days 2013 will host over 4000 people over 2 days. From beer introduction & education to promoting a community-focused beer drinking lifestyle, Cask Days offers premium one-of-a-kind brews alongside a standout line-up of beer-focused workshops, art, music, food pairings and one-on-ones with brewers on site.
Buy Tickets  //  Cask Days Website  //  Follow On Twitter  //  Facebook Page  //  Promo Video