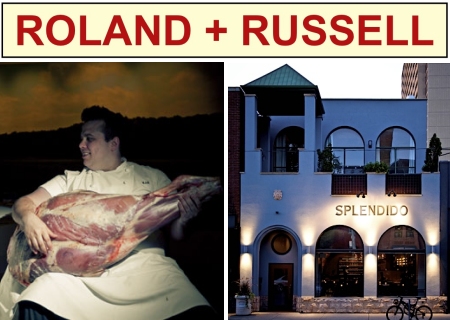 The next installment in the Canadian Beer News Dinner Series is set for this Friday, April 27th at 6:30 PM, and it promises to be a fantastic night of amazing food and beer.
The dinner will feature a selection of outstanding international beers from importers Roland + Russell paired with the stunning Canadian cuisine of Victor Barry, co-owner and Chef de Cuisine of Splendido (88 Harbord Street, Toronto), one of Canada's most celebrated and acclaimed restaurants.
Amongst the eight beers being poured to match the canapé reception and six courses will be several rare and exclusive offerings, including the Ontario debut of Hitachino Nest XH, a Belgian-style ale from Japan that has been aged for three months in sake barrels; and an exclusive appearance by De Struise Double Black, a monstrous imperial stout from Belgium that is so rare only a single case was shipped to Canada.
Only 24 seats are available for this landmark event, so those interested in attending are encouraged to act quickly to avoid disappointment. Tickets are $150 per person (plus taxes and 18% pre-tax gratuity), and can be reserved by calling Splendido at 416.929.7788.
The full menu and other details are available after the jump.
Roland + Russell & Chef Victor Barry
at Splendido Restaurant
88 Harbord Street, Toronto
Friday, April 27th, 2012
reception at 6:30 PM – dinner at 7:15 PM
$150 per person plus taxes and 18% pre-tax gratuity
call Splendido at 416.929.7788 to reserve
no online reservations – credit card required to reserve – charges applied day of dinner
MENU & PAIRINGS
Canapés
Norrebro Bryghus Var Tripel, Denmark
Qualicum Bay Scallop Sashimi
Rhubarb, Radish, Walnut & Black Truffle Coulis
Kiuchi Hitachino Nest XH, Japan
B.C. Steelhead Trout
Avocado, Grapefruit & Crab Emulsion
Panil Barriquee Sour, Italy
Roasted Rouge Farm Duck Confit
Daikon, Spinach, Preserved Meyer Lemon & Ginger Duck Jus
Het Anker Cuvée Van De Keizer Blauw, Belgium
Roasted Cumbrae Farms Lamb Leg
Merguez, Curried Cauliflower Purée, Apricot & Pickled Shallot
Southern Tier IPA, New York, U.S.A.
Southern Tier UnEarthly, New York, U.S.A.
P.E.I. Cloth Bound Cheddar
Crostini & Caraway Onion Jam
De Struise Double Black, Belgium
Chocolate Cremeux
Cocoa Daquaise, Dolce de Leche Ice Cream
Schloss Eggenberg Samichlaus, Austria
ABOUT THE EVENT PARTNERS
Roland + Russell is one of the most vibrant craft beer, wine and specialty spirits importation agencies in Ontario. Established in 2004, Roland + Russell has brought to this market a long list of world renowned artisanal brands such as Thomas Hardy's, Panil, Southern Tier, Eggenberg, Amrut, Mackmyra, Kiuchi, Nøgne Ø, Domain Dupont and Mikkeller, just to name a few. The agency is also known for its special events featuring selected producers from its rich and wide portfolio.
Splendido is a contemporary, fine dining experience that prides itself on high quality food and exceptional service. All dishes are traditionally made from premium, seasonal, local, and family-farmed products while the service team is friendly, professional, and knowledgeable. The Splendido team is led by General Manager and Proprietor Carlo Catallo, who took over the reins in 2009, alongside Chef de Cuisine Victor Barry.
Canadian Beer News is a website dedicated exclusively to coverage of Canada's beer and brewing industry. Presenting news and information with minimal editorializing, CBN features announcements of new beer releases, brewery openings and closures, news about festivals and events, and other information from breweries all across the country.