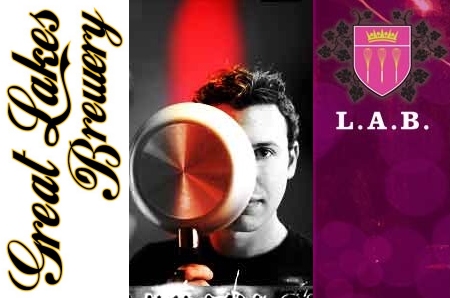 CANADIAN BEER NEWS DINNER #2:
GREAT LAKES BREWERY and CHEF HOWARD DUBROVSKY
at L.A.B. RESTAURANT
Canadian Beer News is pleased to present the second event in the Canadian Beer News Dinner Series, an ongoing series of dinners that bring together some of Canada's top breweries and beer importers with outstanding chefs and restaurants to create unique and exciting beer and food pairing experiences.
For this event we'll be celebrating the art of experimentation, as the adventurous beers of Great Lakes Brewery – including several special one-off brews – will be paired with the unique 'cucina moleculare' crafted by chef Howard Dubrovsky in the kitchen of his L.A.B. Restaurant.
Only 20 seats will be available for this dinner, so those interested in attending are encouraged to act fast!
Tuesday, February 21st, 2012 – 7:00 PM
L.A.B. Restaurant, 651 College St., Toronto
6 course menu with beer pairings
$95 per person including tax and gratuity
Call L.A.B. at 416.551.5025 to reserve
Founded in 1987 and independently owned by the Bulut family, Great Lakes Brewery is Toronto's oldest craft brewery. After almost 20 years of producing exclusively lagers, the brewery launched Devil's Pale Ale in 2006, and has since added a number of seasonal beers to its portfolio – including Green Tea Ale, Orange Peel Ale, Pumpkin Ale and Winter Ale – as well as a constantly growing list of limited edition and one-off beers, many of them served at the "Project X" open house events held each month at the brewery.
Known for his appearances on CBC's Gill Deacon Show and other media, chef Howard Dubrovsky opened his restaurant L.A.B. (Live And Breathe) in Toronto's Little Italy in 2010, and has gained rave reviews for his experimentation with what he describes as 'cucina moleculare': a new style of cooking where classic Italian fare is recreated with a modern, yet familiar style of molecular gastronomy.
Canadian Beer News is a website and news blog dedicated exclusively to coverage of Canada's beer and brewing industry. Presenting news and information with minimal editorializing, CBN features announcements of new beer releases, brewery openings and closures, news about festivals and events, and other information from breweries all across the country.