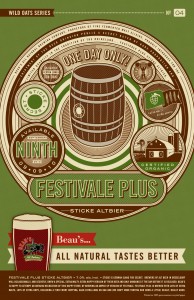 That's the question, but when it's Beau's brewery behind it, a secret will not last long.  Tomorrow, September 9th, Beau's is releasing a special version of their Festivale, an ultra-limited edition called Festivale Plus.  Inspired by Dusseldorf brewers "sticke" or secret brews, Beau's announced this only today with the intention of selling through the stock as quickly as possible.  Growlers will be available at the brewery and on tap at the following Ontario pubs:
Toronto: Bar Volo, Bryden's, C"est What, Highway 61 & The Rhino
Ottawa: Arrow & Loon, Atomic Rooster, Play, Imperial Cafe, Irene's, Wellington Gastro Pub, Whalesbone & Town On Elgin
Cambridge: Golden Kiwi
Carleton Place: Ballygiblins
Carp: Cheshire Cat
Gananoque: Old English Pub
Guelph: Woolwich Arrow
Kemptville : Salamanders & The Branch
Kingston: Queens U Grad Club & Kingston Brewing Co
London: Chancey Smith's
Perth: The Crown & Stone Cellar
Vankleek Hill: Blueberry Hill
Well done Beau's for continued efforts to do interesting things in the Ontario brewing scene.  Get some Festivale Plus while you can!