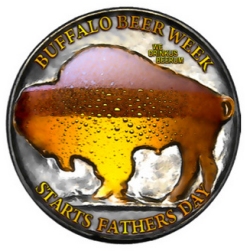 While Ontario beer drinkers are in the midst of the 2nd annual Ontario Craft Beer Week, our friends in a nearby American city that's quite popular for over-the-border beer runs are also celebrating our favourite beverage with their own week of events.
Buffalo Beer Week is running on the same dates as OCB Week – June 19th to 26th, 2011 – and it features a great line-up of dinners, tastings and other happenings at such popular Buffalo beer destinations as Cole's, The Blue Monk, Mr. Goodbar, Pizza Plant and many more.
A full schedule of events can be found on the BB Week website. And here's hoping our respective weeks will fall on different dates next year so we can head down there to join in the fun, and vice versa.