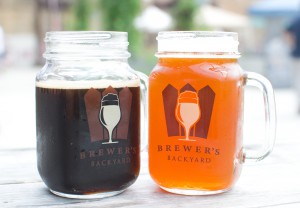 We're celebrating Canada Day with a double-shot of Brewery Market and Brewer's Backyard this weekend.  First up is a special Brewery Market 'on the road', in partnership with the Griffin Gastropub in Bracebridge.  This event, called The Battle of Wits, is a fun Ontario wheat beer competition, featuring Amsterdam, Bellwoods, Mill Street, Indie Alehouse, Muskoka, Beer Academy, Hop City, Lake of Bays and Sawdust City.  The event runs from 12 noon onwards at the Griffin's patio in Bracebridge on Sunday, July 1st.
Back in Toronto we're having our third Brewer's Backyard event at the Evergreen Brick Works on holiday Monday, July 2nd.  This event, entitled The Constitutional Draught, featured a triple-header of local breweries: Black Oak, Cheshire Valley and Kensington Brewing, with food from Rock Lobster and Burger Bar.  The event runs from 12-4pm at the Koerner Gardens of the Brick Works.
Both events are free admission, and you can purchase food and beer there.