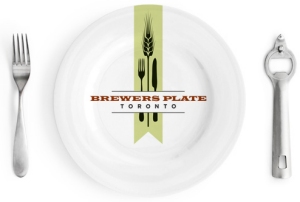 This year's edition of Brewers Plate Toronto will be taking place on Wednesday May 26th, 7pm at Hart House in the University of Toronto. Here's some info on the event:
Brewers Plate Toronto has built an enviable reputation as one of the first and foremost locavore celebrity events in the city showcasing outstanding Ontario chefs whose dishes are charmingly paired with local craft brews.
The event is rooted in slow food principles and uses local sustainable produce created with agricultural methods which promote and enhance biodiversity.
The Brewer's Plate brings to the table a rich and complex, local feast and deliciously demonstrates the viability of import substitution.
Celebrating the sell-out success of last year's event, we welcome back Jamie Kennedy, Brad Long, Mark Cutrara, Marc Breton, Karen Vaz and Brook Kavanagh as our founding Brewer's Plate chefs who, together with other distinguished Toronto culinary masters such as Michael Steh, will bring to the table a host of delicious local treats paired with local brews for your delight.
Our highly skilled Craft Brewers brought in exclusively from the Province are offering you an extraordinary variety of beers, and new for 2010 we are pleased to offer a food pairing with a locally crafted cider.
Meet the chefs and Master Brewers from Black Oak, Cameron's, Great Lakes, Mill St, Steamwhistle, Wellington's and County Cider Co. New this year is Beau's All Natural Brewing Co, Flying Monkeys Craft Brewery, Heritage Brewing, Scotch Irish Brewing, and Nickel Brook Beers.
Enjoy the live entertainment, the good humour of our Patron David Crombie, our silent and live auctions, and great conversations!
The Brewers Plate supports the work of Green Enterprise Ontario, a not for profit organization dedicated to bringing local, sustainable food to the marketplace, building the capacity of locally-owned businesses and promoting a healthy environment, strong communities, and buying local first.
Tickets for Brewers Plate Toronto are $150, and are available now via the event website.