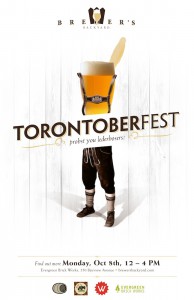 The Brewer's Backyard is hosting its final event of the year on Monday, October 8th – Oktoberfest! We'll be featuring the beers of Beau's All-Natural with some of their delicious treats from their recent Oktoberfest in their hometown of Vankleek Hill. We'll have favourites Lug Tread and Night Marzen, plus new pumpkin beer Weiss O'Lantern, and up to six more beers exclusively brewed for Oktoberfest. But, people will have to come to the Brewer's Backyard to find out what they all are!
We'll also have sausages grilled up by WVRST, along with Cask Days ticket sales and giveaways. And in traditional Brewer's Backyard fashion, we're calling our event Torontoberfest!
The Brewer's Backyard Oktoberfest will be on Monday, October 8th, from 12-4pm at the Koerner Gardens of Evergreen Brick Works.  Admission is free and you can pay for food and beer at the event. We hope to see you then!