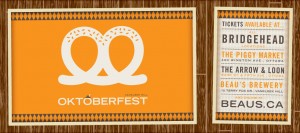 If you aren't exhausted from the recent Toronto Beer Week, there's a big event in Eastern Ontario that you should definitely get to.
Beau's All-Natural Brewing Company is hosting their annual Oktoberfest party in their hometown of Vankleek Hill on October 2nd and 3rd.  And by all accounts based upon last year's event, it's going to be a rocking time.  The event, in support of numerous charities, will feature live entertainment, tons of food from local restaurants, events, contests, family fun and various other activities.
But of course there's the beer! Beau's will feature a number of their own beers, including flagship Lug Tread, fall seasonal Night Marzen Oktoberfest, plus three special one-offs: Opa's Gose, Late Night Sneaky Dunkel and Happy Pils.  But that's not all – the event will also feature a satellite edition of Volo Cask Days, with a bunch of casks from Ontario brewers available.
And if that's not all, if you're not sick of Bar Towel founder Cass Enright from the events of Toronto Beer Week, he (I) will be hosting a talk on some of the tales of Ontario craft brewing, recollecting some of the interesting stories from the beer scene over the 10 years of BarTowel.com.
Beau's Oktoberfest will be taking place Saturday and Sunday, October 2nd and 3rd at the Vankleek Hill Fairgrounds in Vankleek Hill, Ontario.  Tickets and more information are available online, and there is an option for a bus ticket to and from Ottawa to get to Vankleek Hill.  You can discuss the event in the Bar Towel Discussion Forum here.