It was a good year for beer in British Columbia. BC brewers picked up 25% of the 2010 Canadian Brewing Awards, including "Brewery of the Year" for the Central City Brewery. Now there's clearly some heavy hopping on the west coast, but BC brewers have shown they're capable of crafting a variety of styles. Here's a breakdown of their awards:
Gold:
Thor's Hammer, Central City Brewery (Beer of the Year)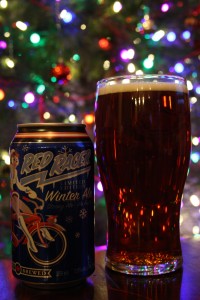 Red Racer Imperial, Central City Brewery
Red Racer IPA, Central City Brewery
Nasty Habit IPA, Mt. Begbie Brewing Co.
Captivator Doppelbock, Tree Brewing Co.
Hefeweizen, Tree Brewing Co.
Sungod Wheat Ale, R&B Brewing Co.
Dark Star Oatmeal Stout, R&B Brewing Co.
Squire Scotch Ale, The Cannery Brewing Co.
Farmhand Ale, Driftwood Brewing Co.
Coconut Porter, Swans Buckerfields
Silver:
Brockton IPA, Granville Island Brewing
Brewmaster's Black Lager, Okanagan Spring Brewing Co.
High County Kolsch, Mt. Begbie Brewing Co.
Naramata Nut Brown, The Cannery Brewing Co.
Wee Angry Scotch Ale, Russell Brewing
Red Devil Pale Ale, R&B Brewing Co.
White Bark, Driftwood Brewing Co.
Bronze:
Island Lager, Vancouver Island Brewing
Hermann's Dark Lager, Vancouver Island Brewery
Okanagan Spring 1516, Okanagan Spring Brewery
Bohemian Pilsner, R&B Brewing Co.
Harvest Moon Organic Hemp Ale, Nelson Brewing Co.
This year we've seen a few new brews appear at the BC Liquor stores, but breweries are also taking advantage of the private stores as well, offering seasonals and other interesting small-batch releases. Speaking of small batches, R&B Brewing has recently brewed a few homebrew recipes on their pilot system and served them on-cask. 'Real Ale' is alive and well (pun intended), with weekly cask nights at a number of Vancouver venues and cask festivals put on by the Vancouver chapter of CAMRA. This was the first year for the Vancouver Craft Beer week and breweries and restaurants, all over the province, continue to show that beer has a place on the dinner table with exceptional food-pairing dinners.
From homebrewing to fine dinning, BC's craft beer community is blossoming. Hopefully these trends will continue to grow, particularly outside the urban centre.
So what's coming in 2011? Well, the brewery of the year certainly isn't resting. Central City is building a 'showpiece' brewery situated by the Pattullo Bridge in Surrey. It'll implement green technologies and be constructed out of glass and wood. This expansion will give them the room to experiment and produce even more styles.
Hopefully all of the brewers will continue crafting new things and getting their creations out to the market… and maybe a few more could make it to the Okanagan?
Hoppy holidays and have a happy brew year!