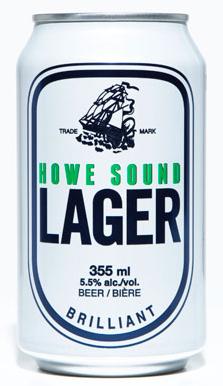 The May 2-4 weekend (aka Victoria Day) is generally recognized as the start of the cottage & camping season. So I'm sure everyone will be excited to hear that Howe Sound Brewing has just released their new lager in a can! Now this isn't your fathers lawnmower beer, this one's packed with bready malt and a serious bitterness. Currently only available at private liquor stores.
Fernie Brewing is also launching their new Buck Wild Ale in cans, and is also available in their summer sampler. They describe this crisp blonde ale as lightly hopped with a touch of wheat.
Russell Brewing is also releasing a Summer Craft Collection Pack of cans including their Cream Ale, Extra Special Lager, Pale Ale & Lemon Ale.
Bowen Island has just released a new Hemp Blonde Ale, which is brewed with a "gentle amount of hemp and finish off with a distinct Pacific Northwest hop". This one is canned, but not currently part of their craft beer sampler pack.
There's a couple of 2011 BC Beer Award winners on the shelf as well (both silver medalists). There's the Granville Island Nut Brown, which is only available at their retail store, and R&B Brewing's East Side Bitter, which is now available in private stores. It's great to see another sessionable 'West-Coast' ESB!
Whistler Brewing now has their Weiss beer and Powder Mountain Lager in BC Liquor Stores.
Driftwood is releasing another brew made from local malt. This Spring Rite Abbey Ale is deep golden in colour, seriously fruity, and has a nice hopping. Apparently it's bottle-conditioned with Brettanomyces, so it'll be interesting to see how it develops over time.
If your headed for the outdoors, look for some quality craft in a can… and leave no trace behind.