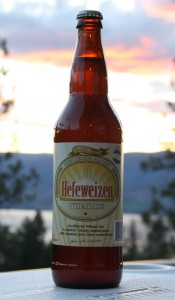 The Summer Solstice marks the start of what many Canadians refer to as "Patio Season". As the long days begin to warm up, people reach for the lighter brews and these releases certainly reflect that.
Tree Brewing's Hefeweizen, crafted by the German Braumeister Stefan Buhl, won a gold medal at the 2010 Canadian Brewing Awards. Individual bottles are already sold out at the brewery, so you'll have to check the Private stores or pick up a Summer Character Pack with the Hefeweizen, Kelowna Pilsner, Thirsty Beaver Amber and new Beach Blonde Lager.
There's a couple of refreshing fruit beers now available: Whistler Brewing's Paradise Valley Grapefruit Ale and Granville Island's False Creek Raspberry Ale. For a little warmth in the cooler evenings, Driftwood Brewing has released a new batch of their Belle Royale Strong Cherry Belgian Ale.
Pacific Western Brewing has just launched their new Cariboo Pale Ale. It's 5.5% abv, finished with Cascade hops, and lists at only $7.99 for a 6-pack of cans!
The AFIC Group has brought in some Hop in the Dark Cascadian Dark Ale from Deschutes. There's currently only 10 cases in B.C., with more to come in July.