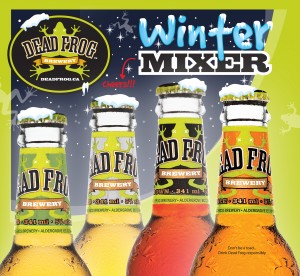 As the Winter Solstice is upon us, we've got a number of seasonal brews. The Christmas Beeracle has returned from Dead Frog, and this year they're donating a portion of the proceeds to the BC Children's Hospital. This bomber is a great little stocking stuffer, supporting an excellent cause. Dead Frog's Winter Mixer is also back again in BC, but it's also making its debut in Ontario. It's currently available at the LCBO, as well as a few of the self-serve Beer Stores. These mixers are great to have on-hand for entertaining and introducing friends and family to the diversity of craft brews.
Whistler Brewing has released a new Winter Dunkel that's brewed with chocolate and orange rind.
Mission Springs has released their new Mr. Brown's Mashing Pumpkin Winter Ale in bottles as well.
Russell and Storm Brewing have done a collaboration brew, the "Big Smoke Ale", which is brewed with 10% (a relatively large amount) of peat-smoked malt. Once again, the Vancouver Beer Blog has an excellent writeup.
Driftwood's seasonal Blackstone Porter is back on the shelf, along with their Old Cellar Dwellar. Phillip's Trainwreck Barley Wine is back again as well.
Hoppy Holidays!