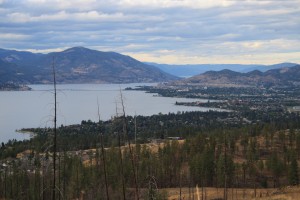 As some of you know, I've chosen to slow down my pace of life and I've moved to Kelowna, BC. If you're wondering where the heck that is, it's on Okanagan Lake in the southern interior (about 400 km from Vancouver and 600 km from Calgary). It's outside the rainy shadow of the Cascade Mountains at the northern tip of the Sonora desert, so the climate is quite different from the west coast. The long, hot summers spawned many orchards and the Okanagan quickly became known for its peaches and beaches. More recently it has become known for its wine, but there is brewing in the Okanagan as well. Kelowna is home to Tree Brewing, Okanagan Springs in Vernon recently celebrated their 25th anniversary, Penticton has Cannery Brewing and Tin Whistle, and there's also a few brewpubs scattered about.
I'm going to miss a lot of people and places in Ontario, but it will be fun exploring everything Cascadia has to offer. I briefly considered starting my own blog, but who wants to read yet another blog? One of the things I really liked about Toronto was how the beer community was really starting to come together. Professional brewers, home brewers, publicans, writers and drinkers were all inspiring one-another and having a really great time. I think that Bar Towel played a role in bringing those people together. So I decided that I didn't want to write a blog… but that I wanted that community to extend to my new home!
While Canada does span a large area, the craft brew sector is a fairly modest population. The Canadian Amateur Brewers Association already extends across the country and we also have the national magazine Taps that presents the Canadian Brewing Awards. I think that Bar Towel could easly extend its reach and become an impartial forum that brings everyone together. So I spoke to Cass and he was already thinking about developing a more national presence, but felt that it would require remote correspondents. So here I am in British Columbia, meeting new people and drinking great beer. I aspire to contribute to this community and hope that this will be a step towards The Bar Towel becoming Canada's Premier Beer Resource.
Prost!