Author
Bar Towel News Editor
Share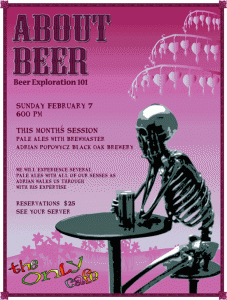 The Only Cafe (972 Danforth Avenue) will be presenting the next edition of their tutored beer tasting series "About Beer: Beer Appreciation 101" on Sunday, February 7th at 6:00 PM.
This edition will feature Adrian Popowycz, brewmaster of Black Oak Brewery, who will be leading a tasting of pale ales.
Tickets are $25, and it's advised that reservations be made in advance, as previous sessions have been very popular. Contact The Only for more details.