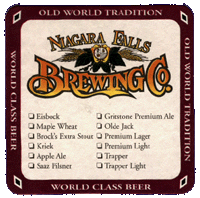 Eisbock is one of the legendary styles of Ontario craft brewing – which would be quickly known by those who have been drinking in the province for a while.
For those who might not know, there was a brewery once called the Niagara Falls Brewing Company. At the time, although I was a young beer connoisseur then, I was terribly impressed with their beer lineup. Here's a decade-old obituary on The Bar Towel chronicling some of the beers they had back in the 90s.  They made fruit beers, bold beers and even the strongest beer in Canada at the time. But that's not all.
Their highlight was undoubtedly Eisbock. This was a pretty impressive brew, a beer with bold intentions at a time where unique, premium and fame-seeking beers were not as common. Eisbock was vintage dated, came in a 750mL bottle, had a new label every year, cost more than others and even had a super-premium boxed version called Eisbock Gold. It was one of the first eisbocks brewed in North America, a beer ahead of its time and even caught the attention of Michael Jackson in his Pocket Guide to Beer. Neither Niagara Falls Brewery nor Eisbock exists anymore – but they will be remembered as a pioneering brewery and a landmark beer in Ontario craft history.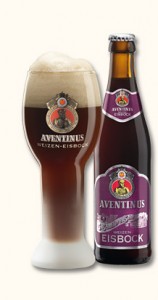 I'm reminiscing here for a couple of reasons. What made Niagara Falls Eisbock so interesting (besides the sheer uniqueness of it being made in Ontario) was that eisbock was, and continues to be, a very rare style. Eisbock (sometimes written as Ice Bock) is a German lager where water is frozen and removed during the brewing process (as water freezes before alcohol) thereby creating a more concentrated flavour and stronger beer. It is very rare in the world – BeerAdvocate lists only 30 eisbocks in their database – compare that to the 1,825 American IPAs. It's not easy to find, which made Niagara's Eisbock special in its day.
But in Ontario, as part of the LCBO's Winter Warmers release, we have an eisbock available, one of the best in the world, and we've had it each winter for a number of years now. It truly is a gem and a beer that many might not realize how special it is to have this delicious brew here.
It is Schneider Aventinus Weizen Eisbock, a classic dark, rich and boozy eisbock. On their web site the brewery is modest, calling the beer "Stronger than strong" and having "Powerful aromas and an intense flavor". That's an understatement. It's a real treat for the winter months – fruity, warming and delicious.
But the rarity and flavour are just a couple of reasons to get it. Another one is that it is available for $3.70 for a 500mL bottle, which is an absolutely scorching deal. In the U.S. you would find this beer for multiple times that price, often for for a smaller bottle. If you want to see the buying power of the LCBO, look no further. This beer is dirt cheap for what you're getting.
And lastly, this is one beer that you couldn't even get in every province in Canada. Just recently news came down that Alberta would no longer be accepting beers that are over 11.9% alcohol. This is certainly short-sighted and craft beer ignorant of the province, but as Schneider's Weizen Eisbock clocks in at 12%, it wouldn't make the cut in Alberta.
So go out and pick up a Schneider Weizen Eisbock. It's a style that nods to Ontario's craft beer history, a beer that is a great interpretation of this rare style, is rich and warming for winter, an incredible value and something that not everyone could get their hands on. Enjoy it.