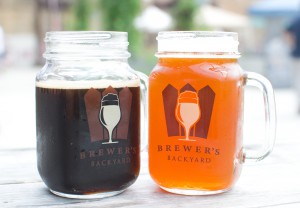 We're a bit late with this post, but we wanted to take this opportunity to thank everyone who participated in our phenomenal Brewery Market and Brewer's Backyard season in 2013.
This year was our best yet, with five dynamite events in Toronto at the Evergreen Brick Works and three amazing ones in Ottawa at Parkdale Park – all to help support the great causes of Evergreen and Ottawa Riverkeeper.
In Toronto, our events in January, May, July, September and October were our usual fun and laid-back afternoons, with breweries participating that included Great Lakes, Indie Alehouse, Nickel Brook, Amsterdam, Left Field, Beau's, Granite, Oast House, Grand River, Black Oak, Cheshire Valley and courtesy Keep6 Imports, Charlevoix, Dieu du Ciel!, Trois Mousquetaires, Dunham, Trou du Diable, Hopfenstark, and Brasseurs Sans Gluten.
We took things up a notch this year in Ottawa, tripling our events from last year (July, August and October) and welcoming all of the breweries from the region: Beyond the Pale, Broadhead, Cassel, Big Rig, HogsBack, Mill Street, Kichesippi, Clocktower, Turtle Island, Whitewater, Beau's and Ashton. But we also had in some out-of-town breweries in the mix this year, including Barley Days, Flying Monkeys and Nickel Brook.
We are extremely thankful to all the breweries that participated – we like to think that the Brewery Market and Brewer's Backyard features one of the most diverse range of local brewers of any event series that takes place in Toronto and Ottawa. After all, we did have over 30 breweries participate this year!
Food is such a key component to our events, and this year we welcomed some of the best restaurants and vendors around, including Big E's Grinds, FeasTO, Sweet Sammies, Kanga Meat Pies, WVRST, Sovereign State Cheese, Jamie Kennedy Kitchens, and Chef Pascal Poilbout. In Ottawa, our great partners Hintonburger, Absinthe Cafe and Murray Street Grill kept everyone well fed in the nation's capital.
But our events wouldn't run as smoothly as they do without the tireless work of our great staff. Our events this year at the Brick Works were led by Amy Whitham, who oversaw an amazing team which included Kelly Creighton, Samantha Calligen, Lizze McArdle, Suzy Marshall, Charles Lauzon, Gira Moin, Nicole Tomasi, Elyssa Gordon and Donna Bridgeman.
And in Ottawa, Taralyn Marshall, who brought the Brewery Market to town in the first place, once again led our bigger and better series this year, with her incredible team including event organizers Mark Carver and Danielle Quigley, plus volunteers Justin Sadler, Maribeth Butler, Ryan Janssens, Matt Jardine, Charles Lauzon, Jasmine Savoie, Jenny Purkiss, Patrick White and Sean MacGinnis, alongside Riverkeeper volunteers Ashley Brasfield, Lynette Chubb, Colleen Hulett, Richard Lamontagne, Erica Nadeau, Ian Redcay and Christina Sullivan.
Thanks Amy, Taralyn and the rest of the team – you are all awesome and we couldn't do this without you.
Many thanks go out to our hosts: Evergreen and their continued, amazing partnership and use of the beautiful Koerner Gardens and Holcim Gallery, and the City of Ottawa for our use of the great Parkdale Park. And of course lots of thanks to everyone from Evergreen and Ottawa Riverkeeper who were invaluable partners at each event throughout the year.
But of course our events wouldn't be possible without the enthusiasm and support of you – all the beer lovers, families, friends, kids and everyone else from Toronto and Ottawa who attended this year. Seeing so many people come out to the Brewery Market and Brewer's Backyard was truly wonderful, and we dearly hope that you enjoyed yourself this year. And best of all – we're happy to say that we're coming back in 2014! So follow us on Twitter and keep an eye out for more details as we confirm our schedule. Thanks again and we'll see you again next year!