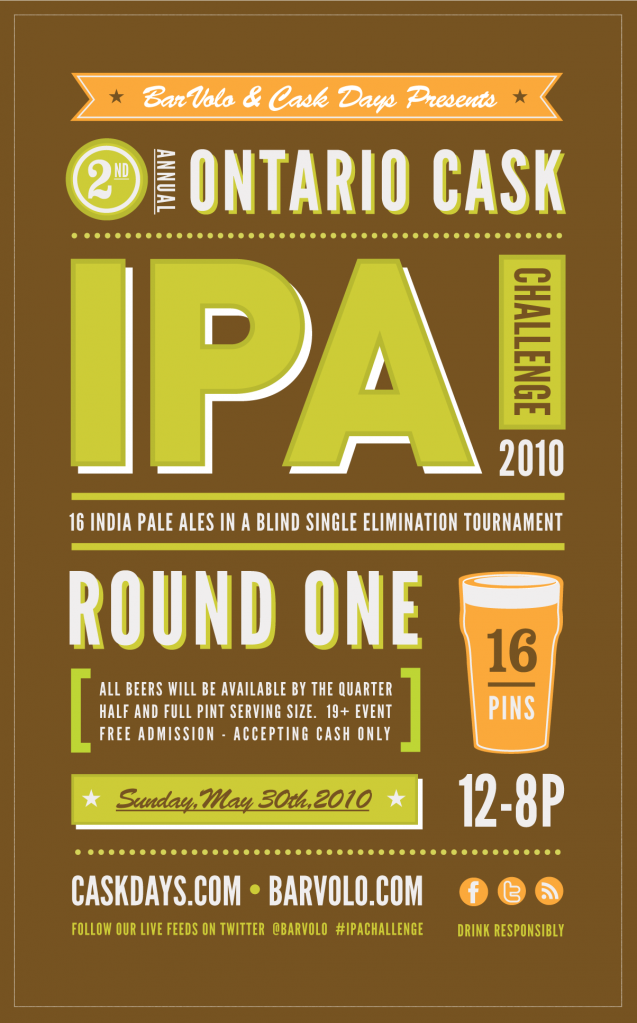 In 2009 barVolo hosted the first Ontario Cask IPA Challenge placing eighteen Ontario India Pale Ales/Pale ales heads up against each other in a single elimination bracket tournament. The final four beers last year were; Granite Hopping Mad IPA, Durham Hop Addict IPA, Mike Duggan #9 IPA and Scotch Irish Sgt.Major IPA. In a head to head final round, Mike Duggan #9 IPA was victorious against Durhams Hop Addict, taking the title of the 1st annual IPA challenge winner.
It's now 2010 and barVolo would like to invite you to participate in the 2nd Annual Ontario Cask I.P.A Challenge. This year will feature 16 India Pale Ales on cask, with three rounds, all tasted blindly. The top score from each beer pairing will advance to the next round.  All participating beers will be disclosed as brewers submit their beers, please check our website for updates.
Canadian East Coast v.s West Coast v.s No Coast Double IPA Challenge – Saturday, May 29th, 2010 from 12:00-5:00pm
IPA Challenge: Round One – Sunday, May 30th, 2010 from 12:00-8:00pm
IPA Challenge: Round Two – Saturday, June 26th, 2010 from 12:00-8:00pm
IPA Challenge: Round Three – Sunday, June 27th, 2010 from 12:00-8:00pm
All beers will be available by the quarter, half and full pint serving size
Quarter Pint = $2.00 / Half-Pints = $4.00 / Full Pint = $8.00- Included Tax.
We are accepting cash only – ATM located downstairs – This is a 19+ event.